Excellence in clinical care
Welcome to Royal Free London
The Royal Free London – Private Patients Unit was established in the 1980's and has a rich history of providing quality clinical care to our patients. We boast world class consultants from the Royal Free London NHS Foundation Trust who are leaders in their field combined with our comprehensive clinical service offering across our dedicated private facilities. We can do this and still provide a high quality service for you because one of the best places in the world to run a clinical service, surrounded by the specialist facilities, workforce, and backup support of a major London teaching  hospital is the Royal Free.
Professor George Hamilton
Medical Director and Vascular Surgeon
We offer a range of clinical services across medical care, surgery, diagnostics, outpatients, dialysis and chemotherapy. Our patients have access to a wide range of surgical treatment as well as minimally invasive procedures. Our consultants are also available for outpatient consultations and minor procedures across 26 clinical specialities.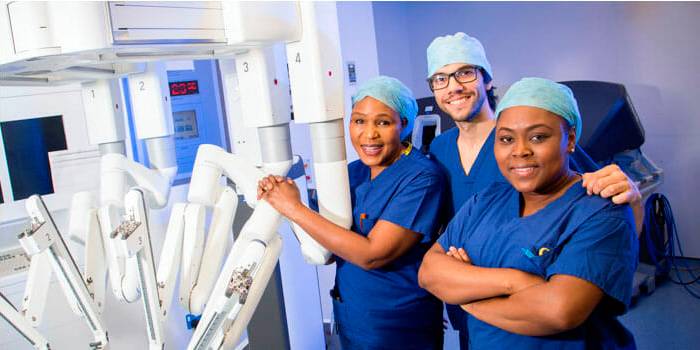 Our private hospital in Barnet
Hadley Wood Hospital is a dynamic private healthcare facility located in High Barnet, North London.
Part of the Royal Free London NHS Foundation Trust Private Patients Unit, Hadley Wood Hospital offers you access to some of London's most experienced specialists.
Supporting the NHS
The unit is part of the NHS and is wholly owned by the Royal Free London NHS Foundation Trust. Generated revenue which the unit earns is reinvested into the trust which supports vital hospital medical equipment and staffing. We are proud to bring the very best skills and standards of the NHS to benefit our private patients and, in doing so, support the continued development of the NHS and the Royal Free London through our success.
Access to acute care and on-site NHS consultancy, ICU and high dependency unit
The Royal Free Hospital is an acute teaching hospital with state-of-the-art facilities and  access to NHS acute medical services to support your inpatient stay. Our consultants also practise in the Royal Free Hospital, meaning they're easily accessible throughout your treatment. You will also be cared for by our skilled nursing team of various levels who are also trained to care for more complex needs.